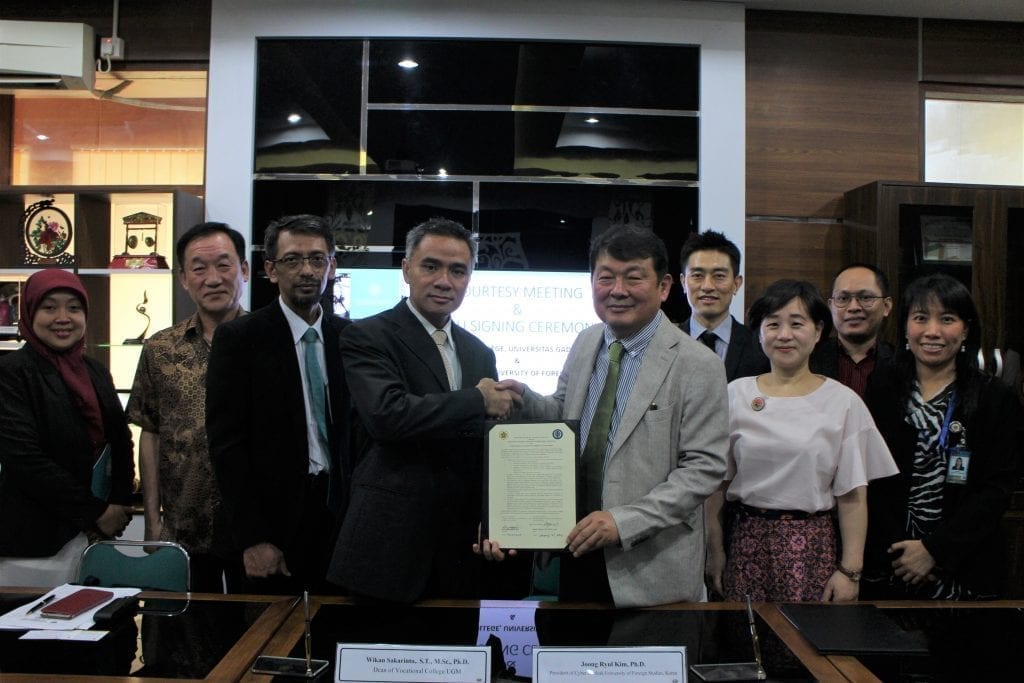 Yogyakarta (21/1) Dean of Sekolah Vokasi (SV) UGM, Mr. Wikan Sakarinto, S.T., M.Sc., Ph.D. and President of Cyber Hankuk University of Foreign Studies (CUFS), Korea, Joong Ryul Kim, Ph.D. officially sign the Memorandum of Understanding (MoU) and Memorandum of Agreement (MoA) between the two parties in SV 138. This event aims to establish cooperation in academic, service, and research sector.
On this occasion, the Dean of SV UGM is accompanied by Vice Dean of Academic and Student Affairs, Vice Dean of Research and Community Service, International Affairs Office and Public Relation & TIK team, Head of DBSMB, and Head of Korean Language Study Program. Before the signing of the MoU and MoA, they discussed the cooperation program in detail. The MoA contains the program of extension study for students Korean Language Study Program in CUFS; at least for three semester. For MoA itself, it contains an exchange program for staffs and lecturers for teaching, research, and service activities.
CUFS is a university with specifically focused on mastering native language, and the special thing is the learning system in CUFS is online. It can be accessed anytime and anywhere.
The Dean of SV UGM welcome the guests from CUFS and hopes this cooperation between SV UGM and CUFS would give the benefit especially for graduates from Korean Language Study Programs.
In his speech, the president of CUFS expresses his excitement at being able to work with SV UGM. "I hope this MoU and MoA would not stop in here, I hope it can bring the positive impact for us" as he said on his speech.
CUFS then continues their agenda to give the socialization to student SV UGM Korean Language Program Study related to this programs. They hope the students can join and experience international exposure in CUFS.