Yogyakarta (13/1) — Office of International Affairs Vocational College UGM (OIA SV UGM) held an "Open House" on Thursday, January 13 2022 by online Zoom Meeting. This inaugural event is organized by OIA SV UGM and aims to provide international ongoing programs for Vocational College UGM students in an interactive way and accommodate students to share any information about international programs and their international mobility experiences.
This inaugural event, OIA SV UGM took the theme: Virtual Exchange Program-Asia University with tagline "A Talk with the Alumnae of Virtual Exchange Program-Asia University, Taiwan". This event presented 3 speakers which are Marhippu Immanuel Hutagaol (Department of Mechanical Engineering student), Mutiara Aminah (Department of Languages, Art and Culture Management student), and Zakia Mahbub Abdullah (Department of Electrical Engineering and Informatics alumni). All the three speakers are the participants of an online student exchange program at Asia University, Taiwan in 2020.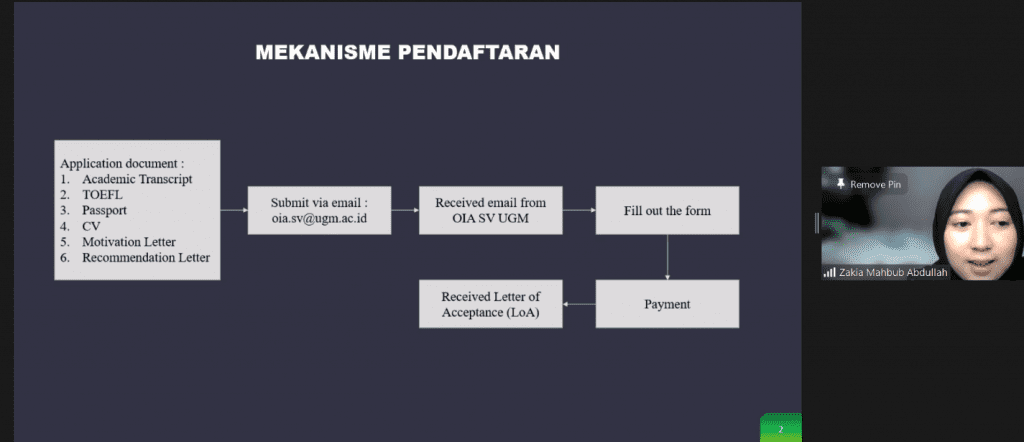 The OIA SV UGM "OPEN HOUSE"event: Virtual Exchange Program-Asia University began with the opening speech by Mr.Ghifari Yuristiadhi Masyhari Makhasi, S.S., M.A. and followed by briefing from Dr. Endang Soelistiyowati, S.Pd., M.Pd. as Vice Dean for Cooperation and Alumnae of Vocational College UGM. Then the event continued with a "Sharing Session" from the three speakers, then sharing about experiences in participating The Asia University Virtual Exchange Program-Fall Semester 2020, registration procedures, tips for choosing the appropriate course, credit convert experience, experience in attending classes and interacting with students from various countries, how pass all the assignments, exams, and the grading systems as an exchange student as well as cross cultural exposure. The event was closed with announce about registration information for the Asia University Virtual Exchange Program-Spring Semester 2022 and the distribution of door prizes for participants.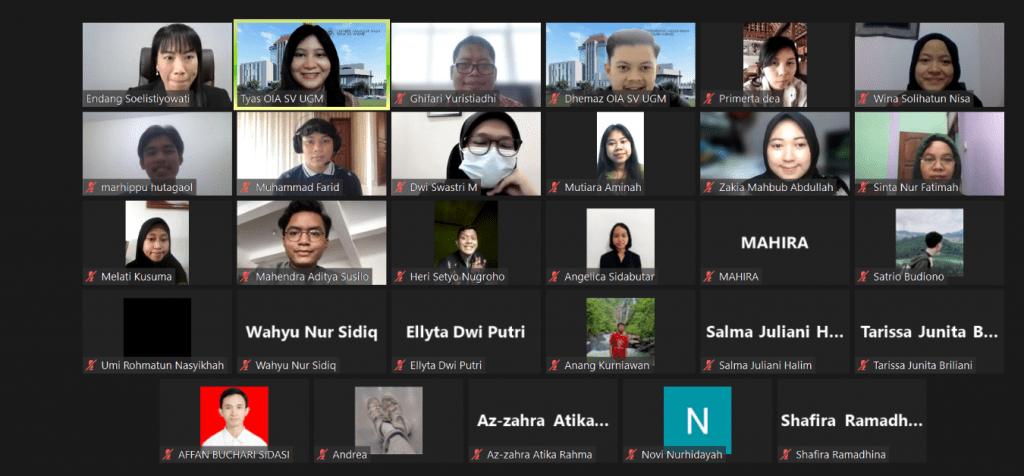 25 participants attended this event and were enthusiastic to listen about the experiences from the three speakers and also the registry information for Asia University Virtual Exchange. This was proven by the large number of participants who asked questions and interacted with the speakers to dig up further information about international programs, especially student exchange program at Asia University. Hopefully the number of students SV UGM will increase to take a part in the international programs as a form of MBKM implementation.
Author: OIA SV UGM